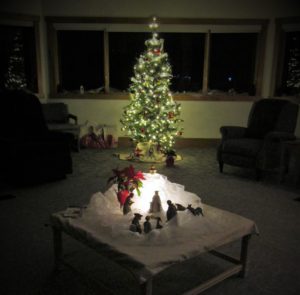 I am so blessed to be living with women who are committed to a life of prayer and contemplation. Each one, in her own way, inspires me to be a better person and together we are becoming one beautiful, holy image of Christ. There is joy and fulfillment in my life, and I am so grateful for having said "yes" to the Spirit's invitation to come to this particular community in Travelers Rest, SC.
Now, I wouldn't say that everything is hunky-dory here! Life isn't that way, and living the monastic life is certainly not an escape from life. Yesterday, we mopped up a flooded Altar Bread Room after a pipe burst in the wall. Today, a police officer walked in at dinnertime to see me about tampered mail I found in the ditch across from the monastery (not our mail). The doorbell, phone, and intercom resound daily, along with our work schedule which is no small feat–cooking and cleaning for a household of twelve as well as cleaning and preparing a Chapel for services, gardening, welcoming all who come to us and to our retreat house, preparing music for daily liturgical services, sending out newsletters and thank you notes to friends, and distributing altar breads to churches, just to name a few of our labors!
The wonder of it all is that no matter what happens in our lives, we carry on, praying in community seven times a day for all in need. When we are not praying together, each sister lives a life of prayer in her work, her community relationships and in her private time which includes spiritual reading.
We do it. Every day, every hour, every moment of our lives is spent in a growing, unitive relationship with God and all of creation. It is a mystical way of life that we have said "yes" to, and it is an incredible ministry that brings meaning and purpose to our lives and the lives of so many. There is vibrant life here, and I am so happy to be a part of it!
I believe there are more young women who sense an invitation from God to come here and live this way of life. They could be the ones who "just want to be with Jesus", who love their time in prayer, who reflect deeply on the mysteries of life, who recognize a need within themselves for life in community, who want to be their truest selves for the glory of God and in service to Christ's Body, and by living a life of prayer, make an eternal difference in the world. They are rare, courageous and devoted women who are not afraid of committing to something greater than themselves. I hope and pray they find us through the generous communication of each of you.
Blessings to you and know, that I and all your Poor Clare Sisters, are remembering you in our prayers. May your new year be filled with all that is Good.
Sister Sharon of Jesus