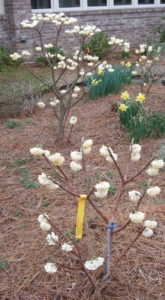 In the past year, three new friends have settled into our courtyard garden. They are sisters of a sort and their collective name is "oriental paper bush" or "Edgeworthia chrysantha."  We know them as Sisters Joyce, Mary Clare and Helen, named for three of our sisters who slipped into eternity a couple of years ago, within a span of six months.
I enjoy watching these sisters grow. Here it is, the end of February, and on the ends of leafless branches are fragrant creamy yellow flowers that bow their heads as if in prayer.  So it is with Poor Clare nuns; in the midst of winter, we live and pray an invincible spring.
From one stem comes three branches, that speak to me of the Tri-unity incarnate in our world. The stem can flex and bend without apparent harm—another trait of a Franciscan Poor Clare: the ability to bow and bend before another in sisterly servant-hood.  The bark is "flaky" and well, I like to think of that part of our contemplative life as "seraphic confusion." Its color is a beautiful, cinnamon, "Franciscan" brown, and I understand the flaky bark can be used to make fine quality paper for calligraphy, thus the name "paper bush." I knew that flakiness was good for something artistic!
Our sisters are taking root in the garden, and at the proper time will produce fruit, though it will be hidden among the remains of the flowers.  Hidden we are in our cloistered contemplative life, and, we trust, very fruitful.
Sr. Sharon of Jesus, osc