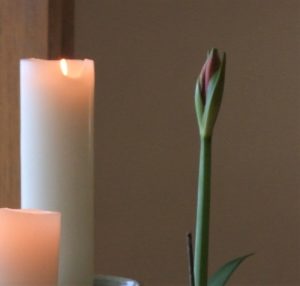 There is nothing more exciting than the moment before a flower blooms.
The amaryllis in our Chapel is on the edge of its dawning day. It is almost, but not quite. A sliver of blossom pushes out of the stem's enclosure screaming, "I am alive!  Wait and see!"
That is the only action we can take.  The process of new birth cannot be hurried. We cannot pry open the stem walls, spread out the ruffled petals and declare it "Beautiful." The only action we can take is to watch and wait with eager longing for its completion– like a child waits for Christmas Day; like God waits for our Resurrection.